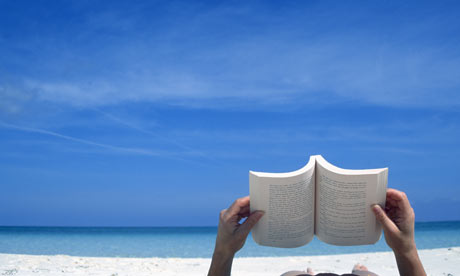 I'm Canadian and I'm well aware of the joke that Canadian summers last about a month out of the year. The sad thing is, the joke has some truth to it. While I'm used to the cold and the snow, this past winter was harsher than most and man do I
absolutely hate
shoveling. To make matters worse, the temperature has also been on the cool-side until recently. When it finally hit
25
°C
the other day, I immediately grabbed a book, slathered on some sunscreen and relaxed on my back porch. There is nothing I love more then reading in the sun!
So in order to celebrate that summer has finally arrived in Canada, I thought I would host a giveaway so some lucky winners have the chance to get out and read in the sun. Just remember the sunscreen ladies!
GIVEAWAY
One lucky commenter will win two books of his/her choosing from Book Depository
!
If more than 25 people enter, I will choose a second winner who will win one book of his/her choosing from Book Depository.
To enter, simply fill out the entry form below. You don't have to be a follower to enter, but one extra entry will be given to those who are or become a follower of this blog.
-You must have a valid email address.
NOTE: those that enter and do not have a valid email address will be disqualified.
-Contest runs from June 14/2011 to midnight (Mountain Standard Time) June. 28/2011. The winner(s) will be chosen at random on June 29/2011 and contacted later that day. If the winner(s) does not get back to me within 3 business days, I will choose a different winner(s).
-This contest is open internationally, but the winner(s) must live in a country that is eligible for free shipping through the Book Depository
. If this qualification is not met, I reserve the right to choose a new winner(s).
-The first winner's choice of books must not exceed $25 in total (CAN). If a second winner is chosen, his/her limit is a total of $15(CAN).
-You must 18 years or older to enter
-Good Books, Good Coffee, Good Life is not responsible for lost books or unreceived books.